(Subscribe at the side / bottom of the page for access to ALL 5 FREE tools)
Need a comprehensive budget planner printable that automatically works everything out for you? ……..well here you go!
This spreadsheet enables you to add income into the income tab and spend into the spend tab. The results will then be summarised on the Summary tab and will gives you complete overlook regarding your budget sheet.
Its super simple to use and shows you at a glance where all your money is going. So, what are you waiting for? Hurry up and take advantage of this free budget template. 
Download No_1: The Budget Planner Printable
There are plenty of free debt tracking tools, but which one is right for you? As a debt blogger, I spent three years trying and reading various tools extensively and came up with this final tool that I think is the best.
Download No_2: The Debt Tracker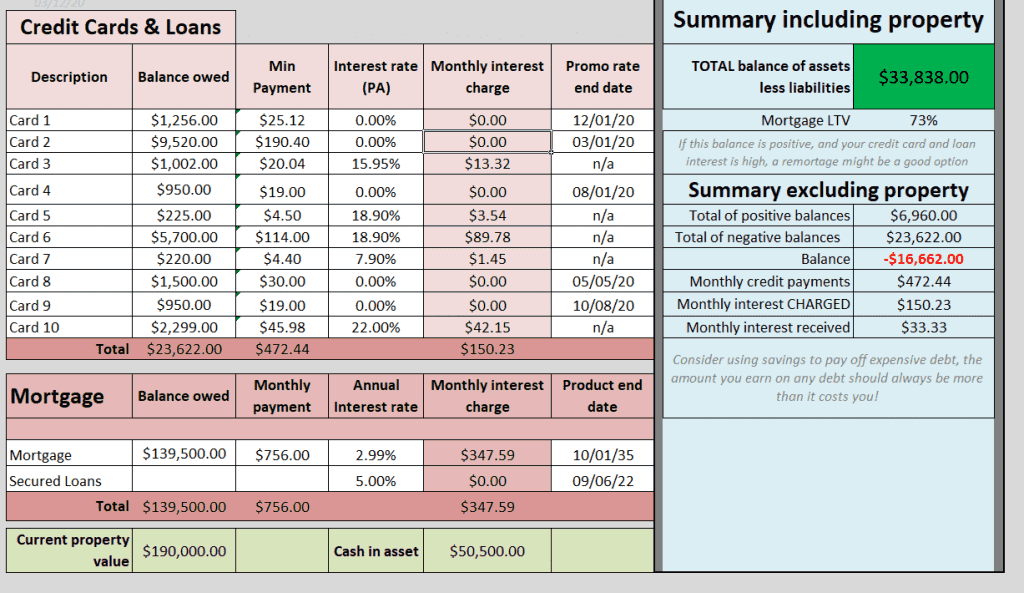 This detailed spreadsheet gives you a comprehensive view of all your debt and credit in one place in budget sheet. Also it will give you a easy way to inspect the given data and get exact report of budget planner for your use.
If you are not comfortable with Excel, there is a printable version in the download file or see below for the pretty pdf version. 
If you are happy to fill in the figures directly on the sheet (fill in the white spaces only) the sheet will calculate all your balances for you in the summary box.
Download No_2a : The (Printable) Debt Tracker

You might be familiar with this popular budget planner printable software, but did you know you can use it to track your debt as well?
This detailed spreadsheet gives you a comprehensive view of all your debt and credit in printable form, as the excel one above but this one has been optimized for printing the budget sheet.
Download No_3: The Debt Checklist
Having trouble getting started?
Don't you worry, this simple step by step guide for debt checklist will help you make sure you're covering all the bases.
These 8 steps will set you on the right track for better money management today.
Print it off and stick it on your fridge or noticeboard.
You might need to revisit a few of them over the coming months but it's a handy reminder and will help you stay on track.
Download No_4: The Reminders
This handy reminder sheet will give you a heads up when your contracts are about to run out.
Letting your mortgage run onto a standard rate or your insurance  roll over with the same provider could be costing you a pretty penny every year while having free budget template.
Take just 10 minutes, print the form and fill in the month that contract ends for your:
-Mortage product
-Mobile phone
-Landline
-TV services
-Internet Services
-Home Utilities
-Car Insurance
-House Insurance
-And anything else you can thing of!!
-Then Stick it on your fridge!
Don't forget to use TopCashBack to compare and switch deals, it's free to use and you could pocket a decent sum everytime you switch!
Download No_5: The Action Plan
31 point action plan to help you get out of debt with budget planner printable no matter where you are along your journey and what your personal situation is. 
Choose a couple to try for a month or two. The purpose of this is to help you understand your arrears more clearly, the best way to repay the arrears, and to help you stay motivated until the balance is settled.

Subscribe to get access to ALL these free tools NOW.
(We promise NOT to send you loads of emails!)