How to Use TopCashBack to get MORE Money Back
Sign up TODAY for a FREE £10 credit !!
TopCashBack is a platform that allows users to earn cash back on purchases they'd make anyway, with retailers paying the cashback site for customer referrals. The site then shares a portion of that commission with the user.
In the following article, I'll show you how I've used topcashback to get over £1,700 in cashback on purchases I would have made anyway!
I'll show you real-world examples of how I've earned significant cashback from top retailers like Sky and Virgin so dive in to discover how to make the most of your online shopping!

Use TopCashBack to Make Money
I don't know about you but I absolutely LOVE to get stuff for free.
Generally anyone that promises you free stuff or "Today only – massive discounts!" are trying to con you into buying things that you really don't need and didn't want to buy in the first place.
Take Your Cut From Their Commission
Surprisingly, cashback sites don't work that way, they make their money from the SELLERS or retailers, not the buyers – meaning that we can buy the stuff that we would have done anyway AND get cash back – no strings attached.
What happens is that the retailer – let's say Sky.com – will pay the site for sending them customers, they then pass SOME of that money on to us – the customer as a thank you for using their website to connect with Sky.
Make sense?
Infact – later on in this post I'm going to show you how I've had over £1.2k back (FREE MONEY) from TopCashBack – just by shopping online and buying things that I would have done anyway!
How Does TopCashBack Work?
Basically – retailers pay the cashback site for sending them customers (you and me) and the site gives us a cut for buying – so it's totally FREE for the user.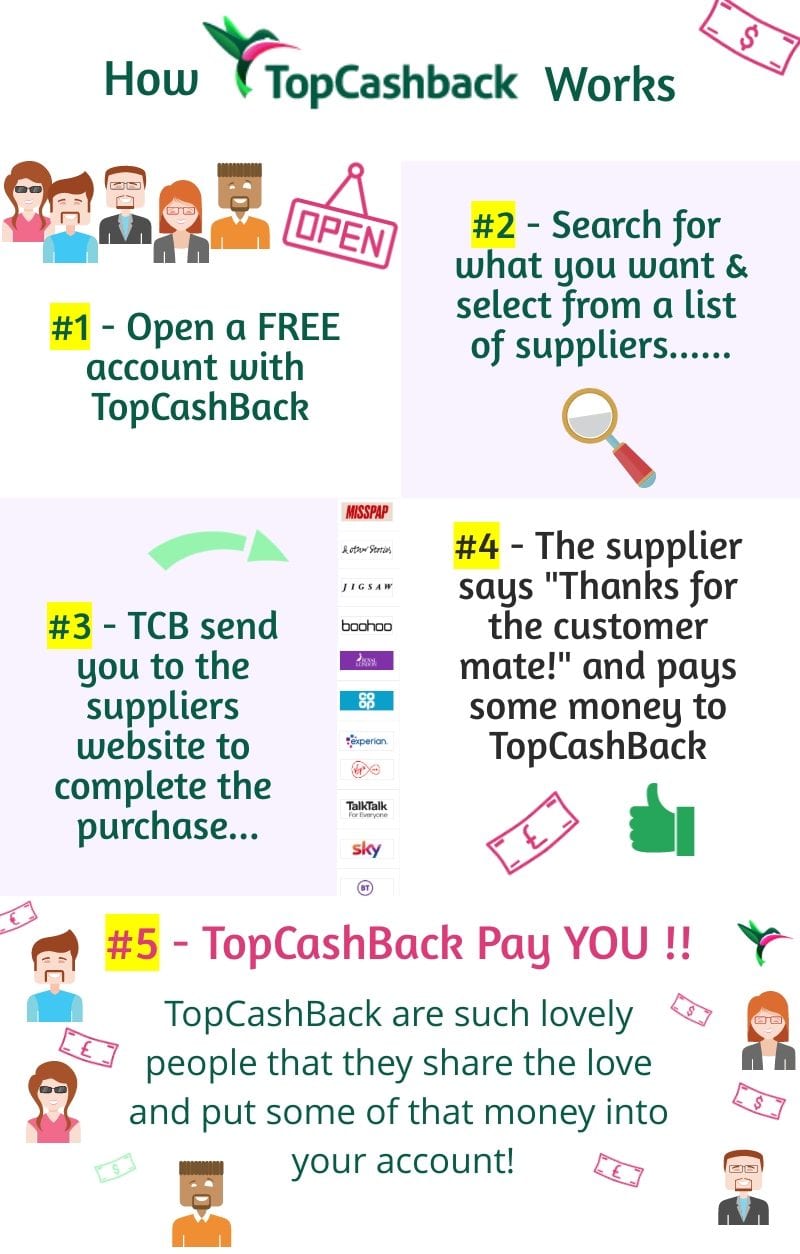 Still don't believe me?
Ok, I'm totally with you on the deep mistrust of anything that GIVES me money for nothing especially something that sounds as spammy as a "cashback site" so I'll show you some extracts from my Top Cash Back account that I've had since 2014 that shows the actual money that they have paid me.
TopCashBack, like many othersites that offer cashback such as Quidco or Swagbucks, operate in a number of different countries so just because the account I will show you is UK based, it doesn't mean it can't work for you where you are.
Is TopCashBack free?
Yep – Totally FREE
The basic version of Topcashback (which is all you need tbh!) is FREE to use, so if you want to follow along as I go through the instructions CLICK HERE for the UK or HERE for the US to sign up for a FREE account.
How do I get a TopCashBack Account?
Simple Website or APP sign-up
Its free to join so you can go ahead and sign up on the topcashback website with no credit card, bank account or any other such payment details needed.
You might want to add some PayPal or similar details later on though so that you can get your payout.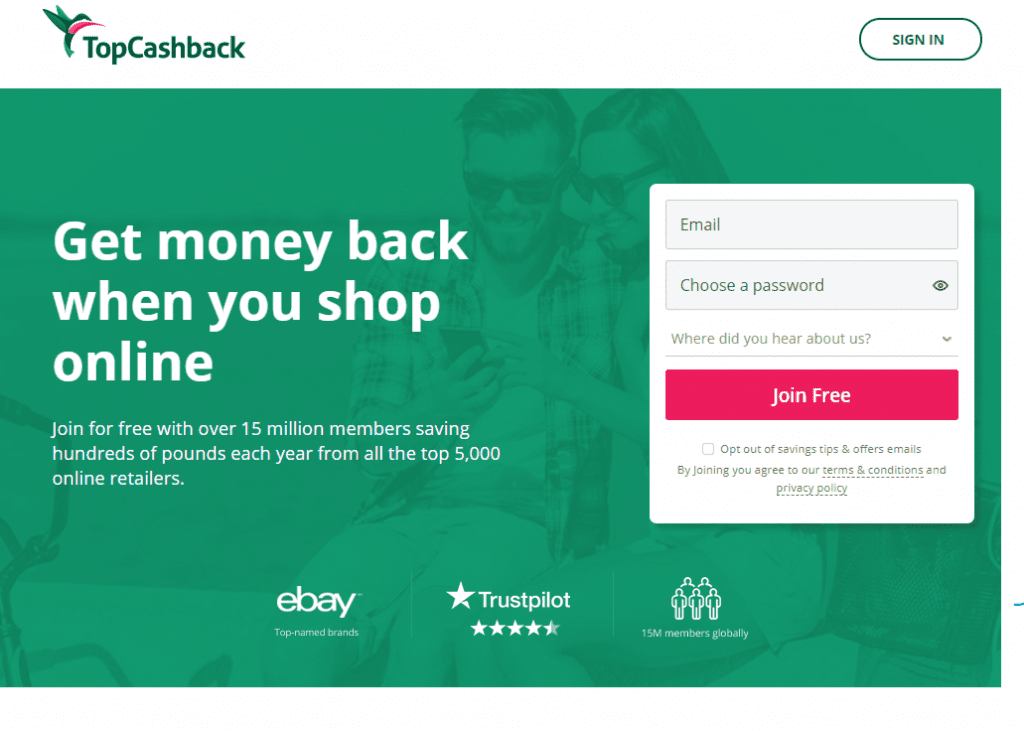 Enter your email address and password…..get a confirmation email from TCB (TopCashBack)…..click to confirm….Then you're in!
How Do I Earn Cashback?
Just Buy Stuff!
Don't get me wrong here, I really don't want you to buy stuff you don't need just for the money that topcashback offer you for the pleasure of buying through them – that would be silly! I do however suggest that you have a look at your current expenses such as:
Insurances (house, life and car)
Utilities (gas, electricity etc)
These are all things that you are paying out for ANYWAY, if you are out of contract but haven't managed to get around to looking for a better deal, now's your chance!
Additionally you can get cashback when you make purchases on less practical things such as:
Holidays and all things vacation related
basically anytime you shop online!
I've also made some handy pintables HERE that might help you to keep track of when your contracts are up so that you can earn cashback every year not just when you remember to check. Letting your contracts and policies run on year after year not only means that you are missing out on the cashback for switching but it also means you might be paying WAY more than you need to for insurances, utilities, phones etc.
Getting a New Internet Provider Through TopCashBack
Topcashback for VIRGIN
So, now that you have your account, when you go to the home page and log in, the very top of your screen should look like this:

Followed by a selection of popular offers & trending deals etc. These usually include really popular retailer sites, stores and brands such as eBay, Iceland, Dell, Top-shop, Sky, Virgin, carphone warehouse, Nike and the list goes on….and on…..and ON!
To make it super easy and for the sake of demonstration, let's imagine that we want to look for a new internet supplier…..
There is an option near to the top of the screen for "telecoms" which, if you hover over the word will give a drop down box that looks something like this: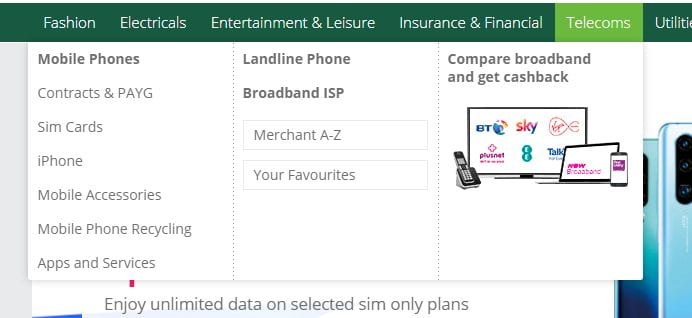 Here I am going to select "Broadband ISP". If you choose to just click the telecoms icon you will get a full list of ALL providers for all these categories so refining your search here is probably a better option.
Now I get a full list of providers and how much cash back they are willing to offer me to sign up for a contract with them.
You will notice that there is also a TopCashBack Compare option here, this is another way to get some extra bonus earnings and could be very useful if you're not entirely sure what package you want to buy just yet. Again it costs nothing but a little bit of time to try out all the different ways to search for your new supplier via this part of the site.
How to Use Topcashback Compare
Get Paid to Compare Deals & Again When You Buy!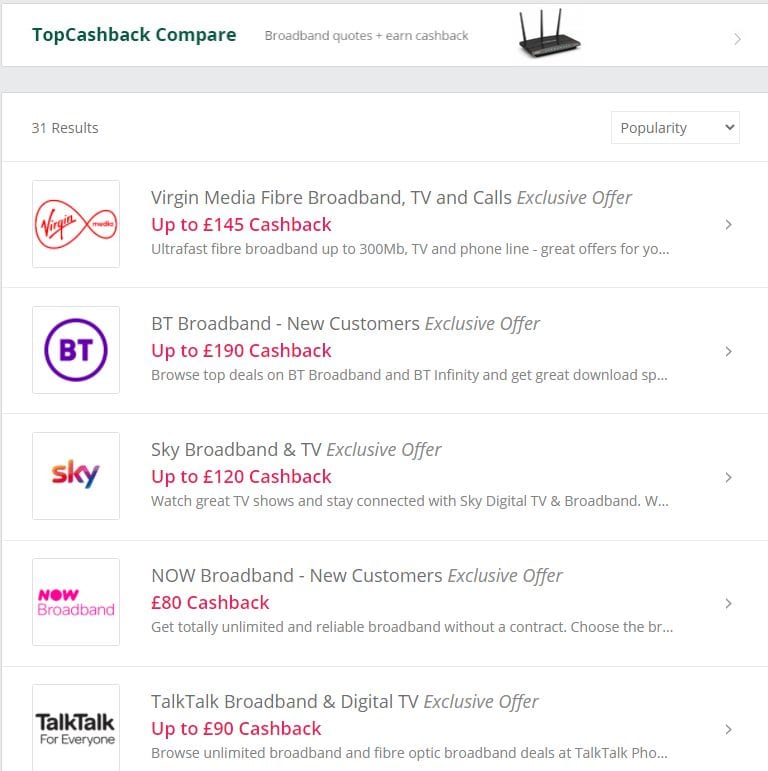 As you can see, there are a lot of offers here and these are not small numbers!
Sometimes the amount that you get might be a little less as these numbers are usually the max cashback offer that's payable when you sign up for the more expensive packages, but you do still get some level of pay out, even if you only want a new phone line, or just the basic TV package.
My TopCashBack Experience
Below is a screenshot from my account where you can see the "claimed" sum next to the provider. This is the money that they have paid out to me.
Since the full list of providers that have paid me since I opened the account is HUGE, this is just a small screenshot so you can see how it works – the TOTAL £ however does include the full list of everything I've been paid.
As you can see; from February 2014 to now (August 2020) I have claimed back a total of £1,251.47!!
In this screen shot you can see that the Virgin Media payout was £147 to take out a TV and Broadband package with them. Before I signed up for this package with them I'd already done some research so I was confident that Virgin would be the best provider for me anyway, so the cash back was just a bonus deal.
It is important to make sure that you don't jump into a contract that is too expensive or not the best deal for you JUST because of the cashback – I say this because it's very tempting sometimes to make a purchase because you can see the great deal you're getting and you forget to ask yourself if you really need it.
On this same screen shot you can also see that I got a payout of £48.72 for switching my utility provider – again I had done my research and this provider was the cheapest in my area so I knew that I wouldn't be paying over the odds just to get the cash back.
Selecting the best retailer
Topcashback for SKY
Let's get back to choosing your new internet provider…..
So you're looking at your list of retailers, you might have already done a bit of googling to make sure you've fully researched their offers and you already know which one will be best for your needs, so lets click into their cashback rates and see what we can get by way of free cashback.
As it stands today, if I click on the sky option, I'll see a list something like this: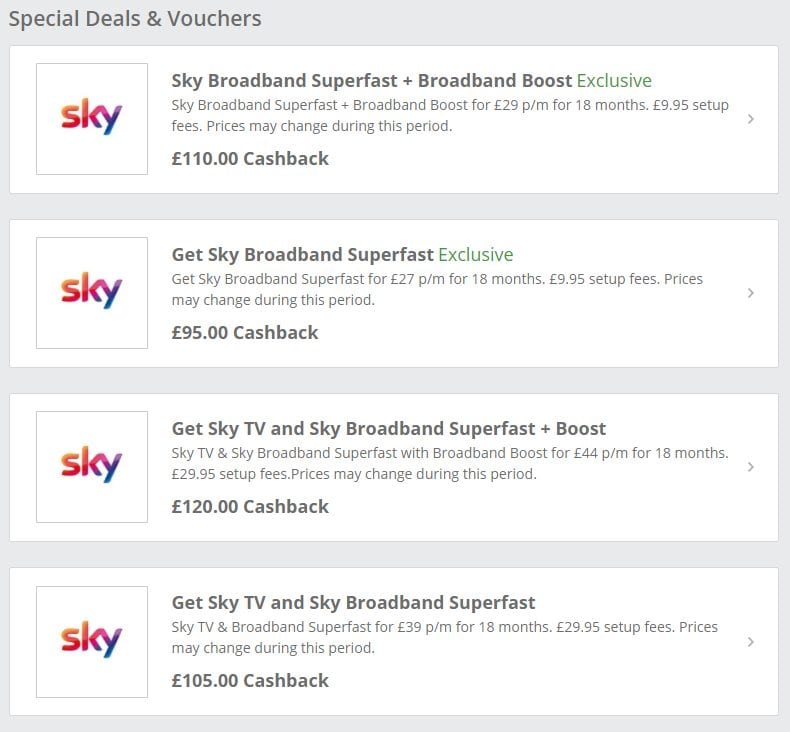 Don't forget, deals and cashback rates change on a daily basis, I'm just showing you an example of what might be there when you get into your account.
When you click onto one of these options you will be directed to the sky website where you can complete the sign up process.
From this point forward you are basically going to shop as normal, as you have now left the cashback website and moved over to the retailer's website.
NOTE: as long as you click the link in the topcashback site and complete the sign-up there and then you WILL (almost certainly) get your cashback automatically paid into your TCB account – there is no need to do anything else.
You will be able to login to your account at anytime to see the cashback you've earned, how much cash is available for your to transfer into your bank account and how much remains pending for payment.
When you enter a contract with Sky, you pay them as you would normally but because you clicked into the Sky website VIA the cashback site – SKY have to pay topcashback for sending you to them…make sense?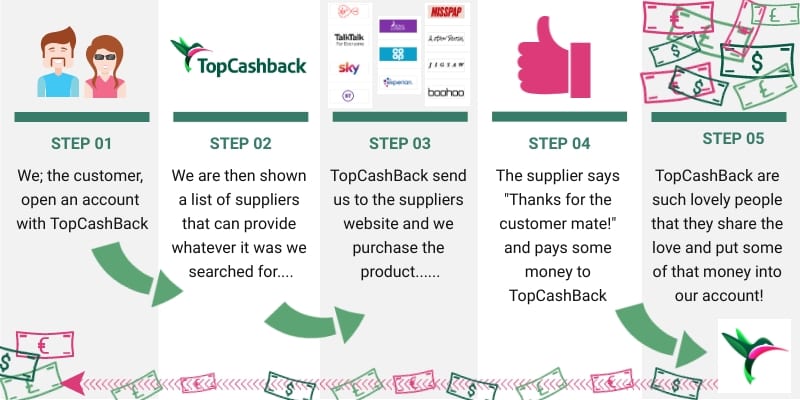 You – tcb – sky – sky provide the service to you you pay sky – sky pay tcb – tcb pay you
So on 15/05/20 I signed up for a new deal with Sky, this is the screenshot from my TCB account

So here you can see that topcashback have confirmed my purchase so I know that the cashback will be paid but the terms of service mean that I have to wait 25 weeks for the money to be "payable" – don't expect to get your cash back instantly, it does take a bit of time!
So that's it – pretty much!
Seriously, its that simple, you sign up for an account, buy the same stuff that you would normally buy when you shop online, but just click through the topcashback site first – it's a great way to get make extra money on a standard purchase.
This doesn't just work on big things like annual TV and utility contracts though, you can use it for weekly shopping, take aways (take out) like JustEat, eBay purchases, almost anything!
TopCashBack Browser Extension
Assuming you have already signed up to Topcashback, you can use the TopCashBack browser extension as follows:
Installation: First, ensure you've installed the TopCashBack browser extension on your preferred web browser.
Shopping Online: When you're about to make an online purchase, click on the TopCashBack extension icon.
Automatic Redirect: The extension will guide you to the retailer's website via TopCashBack's link. This ensures that your purchase is tracked.
Complete Your Purchase: Shop as you normally would on the retailer's site. Once you finalise your purchase, the cashback will be recorded.
Track Your Cashback: Log in to your TopCashBack account to monitor the cashback you've earned. Over time, this amount becomes "payable" and can be transferred to your bank account or redeemed in other ways.
Stay Updated: The extension also keeps you informed about the best cashback deals, ensuring you never miss out on potential savings.
Remember, the key is to always use the TopCashBack link when making a purchase, ensuring that the retailer pays a commission to TopCashBack, which is then shared with you as cashback.
What about the cashback you've earned?
Your cashback earnings can take a little time to drop in to be honest but when they do you can earn even MORE on top of whats sitting in your payable pot.
When you have a pot of money waiting for you in the "payable" section, they offer you a selection of cashback offer EXTRA bonuses.
Check out my step by step process for withdrawals here
Bank Account Payout
If you want to take your pay-out directly into your bank account that's totally fine but if you choose to put it into your "reward wallet" you can select from a list of vouchers that give you a bit extra on top of your pay-out amount.
Reward Wallet Payout
For example, I had about £90 in my payable account at one time, I chose one of the bonus offers and transferred my cash into a Primark voucher and I got 10% extra!
You can transfer the funds to online retailers, this could be via an online voucher code (I've done this with Amazon loads of times), a gift card (these are available for a wide range of stores and they are super easy to search for) or you can print the voucher off to use at a high street shop.
In my case I received a downloadable Primark voucher for £99 !!
I didn't get to spend that much of it to be honest, but it made my daughter very happy and I was top Mum for almost a whole day without having to get out my credit card!
It's such a good feeling when you get to the in-store checkout with a bag full of stuff, and instead of worrying about how much it's going to come to, you hand over a voucher that you didn't pay a penny towards and walk away without parting with any money at all!
If you're struggling with budgeting and getting organised with your finances in general, have a look at my free budget sheet. It's really simple to use and it'll cost you nothing to give it a go!
How long does it take to get your money from TopCashback?
This varies quite a lot depending on the retailer.
From Approved to Payout Can Take 1 week to 6 Months!
If you have entered into a long term contract, the retailer has to make sure that you will stay with them so they might delay sending the payment to the cashback site until a predefined term has passed. This can sometimes with quite a while, I waited 90 days for one payment to be available to me.
Despite this, keep in mind that this is money you didn't have and that you didn't need to work for so waiting for a few months isn't too big a deal really is it?
I have also found topcashback to be very good at tracking the payout, so if you have clicked through the site or the app properly, the chances are that you will get the payout – eventually!
Topcashback Reviews
I personally think that topcashback is great, it's simple to use, the topcashback app is great when your shopping via the phone or tablet, I can easily search for almost any retailer I want on there plus I get an added bonus when I take my payout as a store coupon or downloadable voucher.
Topcashback is a fantastic platform for earning cashback while shopping.
The convenience of using the app on mobile devices makes it really easy to search for and access a wide range of retailers. Additionally, the option to take payout as a store coupon or downloadable voucher is a great bonus that adds even more value to the platform. Overall, topcashback is a user-friendly and beneficial way to earn savings while shopping.
Truspilot Reviews
Check out trust-pilot – currently there are 138k reviews for TopCashBack with an average of 4.5 stars! not too shabby I dont think really do you?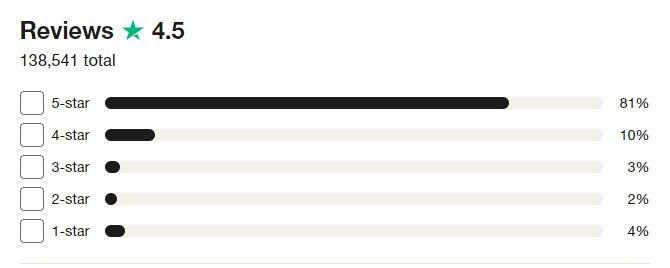 Cashback is better with friends!
On top of all this you can also earn money by referring your friends and family so they can get cashback too!
The payout for introducing new people to the site varies depending on what offers they have on at that time but I have earned between £7.50 and £25.00 per sign up! Key takeaway here would be to wait for the higher amount to be offered before you get all your besties on board!
So long as you send them the link when the rate is high, it doesn't matter how long it takes them to sign up using your link, and then make 1 qualifying purchase – you still earn the higher rate.
Super easy!
EXTRA Cashback With a Linked Credit Card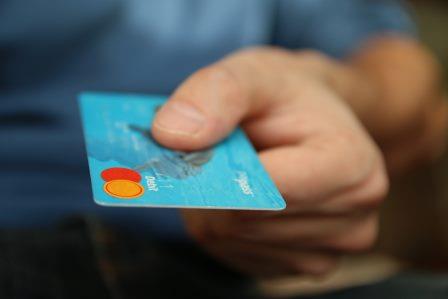 Plus if you know you're going to be spending on a particular credit card, even off the topcashback site, you can register this with TopCashBack in your account section and you will get an extra bonus for that too!
If you still don't want to take my word for it, check out this thread on Reddit, these reviews on TrustPilot, or even this post from the Money Saving Expert.
Put simply, it costs nothing to register on the site, shopping online without it is basically costing you money now that you know this is available for free. I think that using topcashback or other cashback sites is a great way to make cash without having to work for it! It could be the easiest way of making money I've ever found.
If you use the app or the website for purchases throughout the year and don't take out your cashback rewards as they become available to you, you can save the pay-outs for Christmas and have a bit of a splurge!!
Using TopCashBack or other cashback sites is a great way to save money while shopping online.
By registering your credit card on the site, you can earn extra bonuses for your purchases. It is free to register and not using it means you're essentially losing money.
Many users have shared positive experiences on Reddit and TrustPilot, and the Money Saving Expert website also recommends using cashback sites.
By saving your cashback rewards throughout the year, you can have a nice amount to spend during Christmas. Overall, cashback sites provide an easy way to make money without much effort.
Ready to sign up for Topcashback?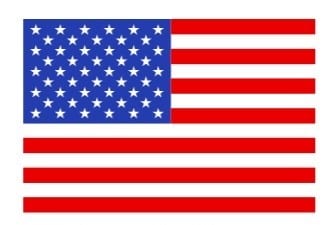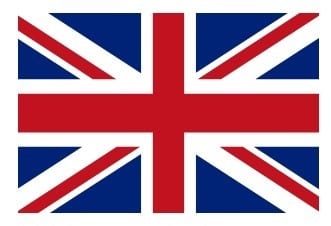 Do you think your friends and family could use saving a bit of money too??
Share the love……….